Congress Hotels
A number of Hotels rooms have been blocked to guarantee accommodation for IUCr participants. All official congress hotels are within 10 km of the HICC. All IUCr participants booked through Conference website and staying at the official congress hotels can avail free shuttle service at fixed timings from their hotels to the HICC and back.
Due to the fact that the venue is located in the North-Western end of Hyderabad, special care has been taken in selecting hotels within an easy reach of the venue by shuttles.
KW Conferences is the official IUCr 2017 hotel handling agent. Therefore, please do not contact hotels directly for any changes or payments. Address all inquiries regarding accommodations to:
E-mail: hotels@iucr2017.org
Reservation and Payment
All reservations are to be made in writing.
Hotel reservations must be made by filling the Hotels & Tours on-line form.
All participants are advised to send their reservations as soon as possible to guarantee accommodation (before 1 June 2017).
Reservations will be handled on a first come, first served basis.
Automatic hotel reservations & rates are available in the system ONLY for the Congress dates (arrival 21 August and departure 28 August 2017). For extra nights, prior or after the Congress, please send your request to the Housing Secretariat of the Congress: hotels@iucr2017.org
When the message FULL appears, it doesn't mean the hotel is fully booked for the whole period. It might mean that the hotel does not have availability for one or some of the nights you are requesting. In this case, please select other date or check another hotel.
Only hotel reservations received with payment for total stay will be confirmed and guaranteed. The participant will then receive the confirmation voucher. Please, check it carefully.
Taxation in India is undergoing a change. The Government of India (GOI) is introducing GST to replace the existing tax structure. The new tax structure will be implemented from July 1, 2017. Taxes on all items will change with this new taxation. We will inform you once we have more information.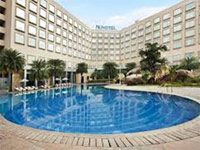 Novotel Hyderabad Convention Centre (VENUE HOTEL)
Adjacent to the Hyderabad International Convention Centre the venue for IUCr 2017 – Novotel Hyderabad is strategically located. The hotel is set in landscaped grounds and features 2 restaurants, a bar, swimming pool and health club.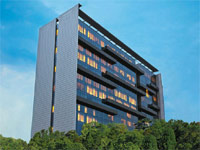 Trident Hyderabad
A member of the internationally renowned Oberoi Group of Hotels, Trident hotels are five-star properties that have established a reputation for excellence and are acknowledged for offering quality and value. The Trident Hyderabad is situated in the information technology hub – Hitec City. This property is 10 minutes away from the Congress venue and adjacent to crafts village 'Shilparamam'
Park Hyatt, Hyderabad
This hotel is centrally located in the city's business hub. The stunning architecture, iconic interiors, grand atrium and the carefully curated masterpieces of art in the hotel makes it one of the most sought after 5 star properties in town.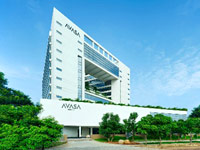 Avasa
Situated in the IT Hub, this 15-storey hotel provides easy access to shopping malls, recreation options and the business hub of Hyderabad. Hyderabad Airport is 35 km from the hotel. The hotel is under 10 minutes from the Congress venue.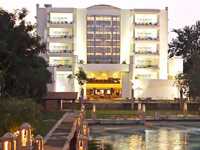 Ellaa Hotel Gachibowli
Away from the crowd, located in a fresh, green neighbourhood, Ellaa Hotel Gachibowli awaits you in all its glory. Situated in Gachibowli, this hotel is about 30 minutes' drive from Hyderabad Airport. The area is well connected to important locations in the city and is about 20 minutes from the Congress venue.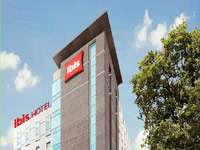 Ibis Hitec City
Located in the heart of the business district of Hitech City. In neighbourhood lies the Cyber Towers, a major technology township. Set amidst a lot of popular restaurants this hotel is 10 minutes from the Congress venue.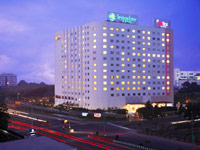 Lemon Tree Premier, Hitec City
Lemon Tree Premier, Hitec City, Hyderabad is located in Madhapur in the heart of HITEC City. A short distance from Inorbit mall, Shilparaman and Cyber Towers. The plush and spacious interiors at Lemon Tree Premier, HITEC City take the zing up a notch. Lemon Tree Premier pampers the style conscious and upbeat traveller with its personalized services, premium in-room amenities and award winning restaurants.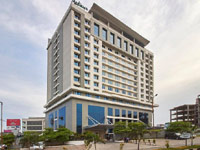 Radisson Hitec City
This hotel features elegant, comfortable hotel rooms less than 30 minutes from Rajiv Gandhi International Airport (HYD). Located in Gachibowli with 15 minutes from the Congress venue.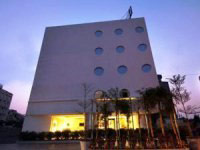 Deccan Serai
This hotel is in the midst of IT park. This new property is located 40 minutes away from Hyderabad International Airport and 10 minutes from the Congress Venue.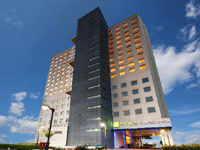 Holiday Inn Express & Suites Gachibowli
Holiday Inn Express & Suites Hyderabad Gachibowli is the smart choice for savvy travellers who are looking for the best location combined with best value which is centrally located in the heart of the city's new IT & Financial district of Hyderabad, Gachibowli. The hotel is located 25mins from the Hyderabad International airport and is about 25 minutes from the Congress venue.
S.No
Hotel
Category
Tariff Single in INR
Tariff Double in INR
Distance to Venue
1
Novotel Hyderabad Convention Centre
5 Star
13,425
14,730
Venue
2
Trident
11,070
12,320
3.5 Kms
3
Park Hyatt
8,895
10,570
10 Kms
4
Avasa
4 Star
5,525
6,325
5.2 Kms
5
Ellaa Hotel Gachibowli
5,475
6,275
6 Kms
6
Ibis Hitec City
5,450
5,970
5.5 Kms
7
Lemon Tree Premier, Hitec City
5,750
6,050
5 Kms
8
Radisson Hitec City
5,650
6,505
4.7 Kms
9
Deccan Serai
3 Star
3,550
3,950
4.5 Kms
10
Holiday Inn Express
4,260
4,260
6 Kms
*All rates quoted are per room per night, and are inclusive of buffet breakfast, Wi-Fi, daily venue transfers from 21-28 August 2017 and currently applicable taxes.
**Any statutory variance in applicable taxes (increase or decrease) at the time of the Congress will be notified and passed onto the guests. If there is an increase in the government taxes, the guests will be asked to make the payment of the additional tax at the time of check in.
Accommodation Cancellation Policy
Cancellations or changes from the original booking must be notified in writing to hotels@iucr2017.org
Cancellations made before 15 May 2017 will have full refund, minus the bank transaction charges and applicable taxes and an administrative fee of ₹ 500/-.
Cancellations made between 16 May and 14 June 2017, will be charged with one night penalty.
Cancellations made between 15 June 2017 and 10 July 2017, will be charged with 50% of the total amount of hotel reservation.
No refunds will be made for cancellations received after 10 July 2017, or confirmed rooms for participants who fail to attend.
No refunds will be made for late arrivals, early departures, or no shows, corresponding refunds will be made from 15 September 2017 onwards.
To book Accommodation